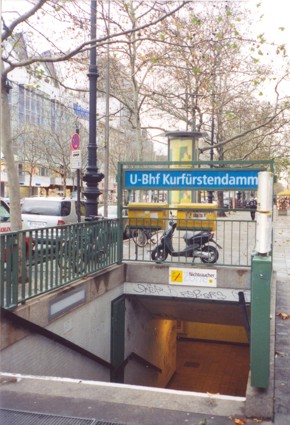 L'importanza politica e culturale di questa città nei secoli precedenti ha accumulato una quantità di monumenti e musei che non trovano spazio in una descrizione così limitata. Bisogna andare a vedere di persona. Berlino è culturalmente molto vivace. Inoltre, proprio in questo momento, sta cambiando radicalmente: una città paralizzata da 40 anni di divisione si sta trasformando in capitale. In seguito alla decisione di portare a Berlino la sede del Parlamento e del governo, la città sta vivendo un'enorme sviluppo. Anche numerose ambasciate e organizzazioni, nonché industrie tedesche e straniere, stanno trasferendo le loro sedi nella nuova capitale. Oggi, che la maggior parte dei progetti edilizi è stata portata a termine, Berlino ospita molti elementi urbanistici ed architettonici nuovi ed innovativi.

Sono da vedere:
La Porta di Brandeburgo e il "Gendarmenmarkt", i resti del Muro, le due strade "Kudamm" e "Friedrichstraße" (centri dello shopping e del divertimento) e "Unter den Linden" (con molti edifici storici), l'Alexanderplatz, il "Reichstag" (sede del parlamento), l'isola dei musei (soprattutto il "Pergamonmuseum") e tantissimi altri musei di storia, arte e costumi, il castello Charlottenburg. Il grande parco "Tiergarten" nel centro della città con la "Kongresshalle" e il Duomo di Berlino.

CITY TOUR : Bus numero 100 – Berliner City Tour (Kurfurstendamm 11)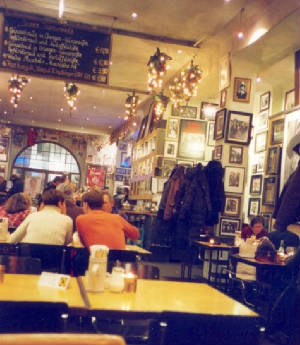 GASTRONOMY - GASTRONOMIA
ADLON (Hotel Adlon, Unter den Linden 77) the chef who is Karleinz Hauser's suggests lobster en gelee. (piatto preferito: astaco en gelee)
JOE'S (Hardenbergstrasse 29). Quality food, friendly stuff and low prices. (Cibo buono, personale amichevole, bassi prezzi)
KAISERSAAL (Bellevuestrasse 1) This restaurant is open for the public only 5 days every month and it is very difficult to find a table. (Questo ristorante e aperto per il pubblico solamente 5 giorni ogni mese ed e molto difficile a trovare tavola libera).
CAFFE EINSTEIN (58 Kurfurstenstrasse) Unter den Linden 42, Berlin, DE 10117*30-204-3632 Has a rich history because of its clientele over the years. It offers 18 types of coffee and various types of breakfast. (storia ricca di ospiti illustri. 18 varii tipi di caffe e una decina di tipi di colazioni: parigina, viennese, triestina ecc.)
Café Savigny Grolmanstrasse 53-54, Berlin, DE 10623*30-312-8195. CHARLOTTENBURG. This a Berlin favorite. A sensational potato salad, stuffed baguettes, and savory sandwiches are the main ingredients that keep this early 1900's-style café in business. (Famoso in Berlino. Da provare: insalata di patate, baguettes ripiene, gustosi panini)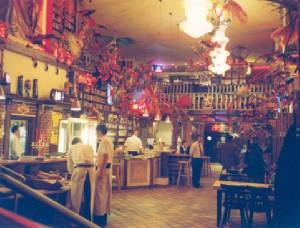 GERMAN cuisine

ALT LUXEMBURG Windscheidstrasse 31, Berlin 10627*30-323-87-30. HARLOTTENBURG. Elegant. Historic. Reservations required. U-BAHN: Sophie-Charlotte-Platz (elegante…Storico)

ALTES ZOLLHAUS Carl-Herz-Ufer 30, Berlin 10961*30-692-33-00. KREUZBERG. Reservations are a must. U-BAHN: Prinzenstrasse

DIE MOWE Am Festungsgraben 1, Berlin 10117*30-201-2029. Reservations recommended.

ITALIAN cuisine

BAR CENTRALE. Yorck Strasse 89, Berlin, DE 10963*30-786-2989

FELIX Club Restaurant (Mitte). Behrenstrasse 72, Berlin 101117*30-206-28-60

TRATTORIA LAPPEGGI (Mitte). Kollwitz Strasse 56, Berlin, DE 10405*30-442-6347

FRENCH cuisine

BORCHARDT (Mitte) Französische Strasse 47, Berlin, DE 10117*30-2039-7117. U-BAHN: Französische Strasse

GANYMED (Mitte) Schiffbauerdamm 5, Berlin, DE 10117*30-2859-9046. If you want to taste german wines... this is the right place because its cellar is an anthology of the best german wines. Good quality traditional plates too. (15-25 euro) (Un antologia dei piu buoni vini tedeschi e cucina di alta qualita)

BOVRIL Kurfürstendamm 184, Berlin, DE 10707*30-881-8461. German-France cuisine (Cucina Tedesca-francese)

INTERNATIONAL cuisine

Kempinski Eck Restaurant Kurfurstendamm, Berlin *30-884-340

PARIS-MOSKAU Alt-Moabit 141, Berlin *30-394-20-81. TIERGARTEN. Old World elegance and modern-day panache, resulting in one of West Berlin's more unique dining experiences. The restaurant, set in a circa-1898 railroad signalman's house, earned its name from its proximity to the line connecting Paris and Moscow. Its wine list includes bottles from Spain, Portugal, the Rhine Valley, France, Tuscany, and even Australia. Reservations are encouraged. S-BAHN: Bellevue (Esperienza unica a Berlino. Si trova a una casa del 1898 dove abitava il segnalatore ferroviario e ha preso il suo nome dalla sua prossimita con la linea Parigi – Mosca. Paris-Moskau offre una grande lista di vini dal tutto il mondo).

CLUBBING

JAZZ CLUBS

Quasimodo (Mitte) Kantstrasse 12a, Berlin 10623*30-312-80-86

A-Trane Pestalozzistrasse 105, Berlin 10623*30-313-25-50

DANCE CLUBS

90° (SCHÖNEBERG) Dennewitzstrasse 37, Berlin 10785*30-275-96-23-1

Havanna (SCHÖNEBERG) Hauptstrasse 30, Berlin 10827*30-784-85-65. U-BAHN: Rathaus Schöneberg or Eisenracher Strasse