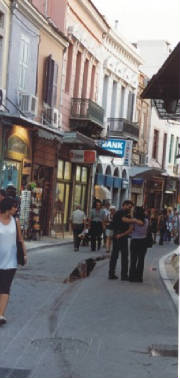 The city (market place)
THE CITY
is full of life and surprises. Crowded streets, shops of every type, restaurants and cafeneons that apart from coffee serve the famous drink "ouzo" and excellent "mezedes"(delicacies). The Mytilinians are intelligent, warm and generous people who love good food and enjoy their lives and ask anyone who sits at the next table to have fun with them. Two of the best things to do in the city is a wandering in the marketplace that runs parallel to the main promenade and is closed to authomobile traffic while the stores are open and also a walk in the old aristocratic neighborhoods with the renowned neo-classical mansions, one of them is the area between the waterfront and the castle with a mixture of old Turkish houses and mansions. Mytilini also has its very own statue of Liberty which was built by a Mytilinian who left poor the island and arriving in the port of New York vowed that if one day he made enought money he would build one in his native city because for him the Statue of Liberty was his symbol of hope.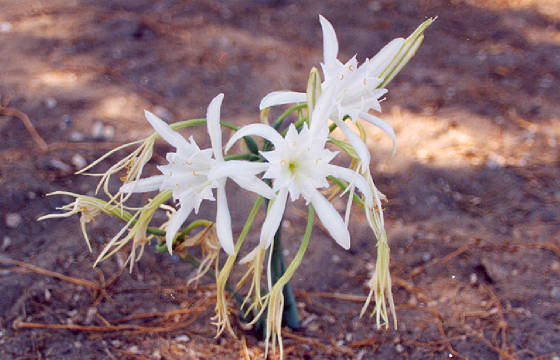 another miracle in lesvos... a beautiful flower that grows on the sand
View from the Castle of Molyvos
MITHYMNA - MOLYVOS
The architectural character of Mithymna is living testimony to a tempestuous and much-troubled historical continuity.
The town, rooted on the rock which is dominated by the medieval castle and spreading down to the sea, still retains its own individual character as that was shaped in the last two centuries of Turkish rule. It is a traditional type of settlement which climbs upwards and is flanked by steep cliffs.
In Molyvos, many mansions dating from the late eighteenth century have survived; examples are the Yannakos mansion and the building housing the School of Fine Arts (formerly the Krallis mansion), with elaborate wall-paintings. Many of the town's buildings have a neo-classical morphology.
MOLYVOS
Mithymna, detto anche Molyvos, è uno dei più importanti villaggi di Lesbo e si trova nella zona nord-occidentale dell'isola, vicino a Petra. Mithymna è il nome antico della città, che venne cambiato in Molyvos in epoca medievale; oggi si utilizzano entrambi. Il villaggio sorge su una collina rocciosa, ben protetto dai pirati grazie ad una fortezza che preserva lo stile bizantino con cui Mithymna fu edificato.
Le case in pietra, con piccole porte e finestre, sono su due piani e presentano un balcone in legno chiamato "sahnisi", che estende lo spazio a disposizione per la famiglia, date le piccole dimensioni delle abitazioni.
i vicoli stretti si fanno strada nel villaggio dall'architettura bizantina e conducono spesso a fontane in pietra, tipiche di Molyvos; notevole è quella vicino al vecchio Palazzo dell'Amministratore (1898).
Da visitare sono inoltre il mercato, vicino alla piazza principale, la fortezza medievale e le chiese bizantine, in particolare quelle di Taxiarches (1795) e di Agios Panteleimon (1844).
La Biblioteca Municipale di Molyvos fu inaugurata nel 1863 e vanta una collezione di 9.000 volumi, alcuni dei quali di grande valore; è inoltre possibile visitare la Galleria d'Arte e il Museo che si trovano presso l'ufficio del sindaco. Da vedere è anche la magione di Kralidon (che deve il suo nome al primo proprietario, Kralis), che, costruita nel 1830 e rinomata per i dipinti murali, ospita oggi la Scuola di Belle Arti.
La spiaggia più vicina è quella di Eftalou, a 4 km a nord-est dal villaggio, dove ci sono anche sorgenti calde molto rinomate per le loro proprietΰ terapeutiche.
| | |
| --- | --- |
| OUZO destillery | |
Isola Solare
(Lesvos)

Non trovo parole per cantare
la tua bellezza lucente,
dolce meraviglia della natura,
questa figlia del Sole.
Terra erotica che al tuo orizzonte
innamorati si abbracciano
l'azzurro del tuo mare profondo
con il lucente celeste del tuo cielo.

Tu hai dato vita e esistenza,
alla decima musa del nostro mondo,
la dolce e divina Saffò...
Tu le hai procurato la sua arpa divina
per scrivere canti d'amore eterno
e di bellezza che fine non ha.
Sei nata da un esplosione vulcanea,
calore e luce in armonia.

Boschi magnifici ed autentici,
infinita bellezza del verde,
Boschi pietrificanti da milioni di secoli
nascosti sulle tue montagne rocciose
di mille colori e d'infinita bellezza.
La tua forza divina ha vinto
anche l'aggressività folgorante vulcanea,
l'ha trasformata in creazioni artistica.

Isola eterna amata del Sole!
Ninfa di un arcipelago azzurro,
nei tuoi golfi giacie la dimostrazione
cimelio naturale della Vita Terreste.
Ogni tuo paesaggio e unico,
campi vestiti con gioielli e profumi
e come una donna elegante
attira l'attenzione del suo uomo.

Isola stupenta e unica,
di un armonia erotica la tua natura,
ricchiama l'uomo della passione.
Nelle tue stradine... coppie innamorate
abbracciati godono la tua luce,
e si lasciano amare con passione
sotto il tuo cielo stellato
camminando verso il tuo chiaro di Luna.

Lunapiena
Approaching the harbor of Mytilini (capital of Lesvos) it reminded us of Athens or Piraeus in the fifties. The buildings, the houses and the well preserved mansions with an enormous castle which crowns the whole city confess the long and rich history of the island as a cultural and commercial point between east and west with a flourishing period by the end of the 19th century.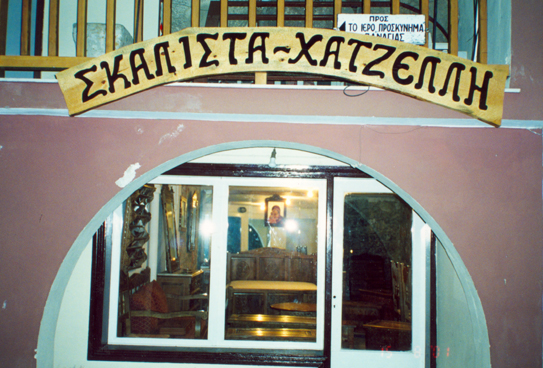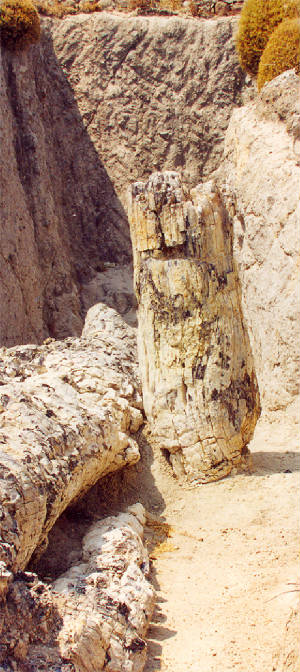 ...from the petrified forest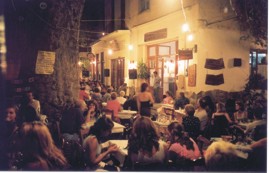 A night at Plomari with ouzo & mezedes
PLOMARI
on the South Coast of the island, famous as it is the mecca of ouzo production. Graphic and quiet with its main square always full of people who enjoy the morning coffee... or an ouzo and some nights you can enjoy your dinner with live traditional music.
LESVOS HIGHLIGHTS
- THE THERMAL SPRINGS OF GERA'S GOLF, POLYCHNITOS, AGIOS IOANNIS AND THERMES
- THE NATURAL HISTORY MUSEUM OF VRISSA - VATERA
- THE MUSEUM OF THE FAMOUS PAINTER THEOFILOS AT VARIA
BEACHES: AGIOS ISIDOROS, VATERA, PETRA, SKALA ERESSOU, GAVATHAS, SIGRI, EFTALOU
- THE PETRIFIED FOREST
- THE MONASTERIES OF LEIMONOS, AGIOU RAPHAEL, YPSILOU AND TAXIARCHES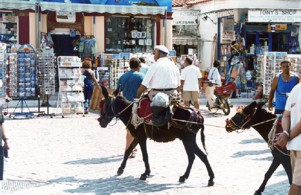 Daily life, full of colours and flavours