Da Claudia
La vita scorre veloce, gli inglesi sono persone poco inclini a dialogare con gli estranei e anche le occasioni di incontro con i nativi non sono tantissime. Alla luce di tutto cio quindi, consiglio una citta piu a dimensione uomo di quanto non lo sia Londra, dove trovare meno stranieri e risparmiare qualche soldino. Consiglio inoltre di informarsi sui corsi ESOL tenuti in alcuni college che sono totalmente gratuiti per gli appartenenti alla comunita europea.

Per quanto riguarda l'aspetto ludico della mia esperienza, non posso che sottolineare quanto Londra sia affascinante! Sfatiamo la storia della nebbia e del fumo! E' vero, piove spesso ma per poco tempo e l'estate non e calda come da noi, ma la nebbia e davvero una leggenda forse legata alla prima
rivoluzione industriale o alle stufe, usate lo scorso secolo, funzionanti a carbone..io in sei mesi la nebbia non l'ho mai vista!
Secondo: gli inglesi non sono antipatici ed il cibo non e male, parola di buongustaia!
La mia esperienza e stata totalmente positiva: ogni qualvolta scoprissero che fossi italiana, sgranavano gli occhi e sfoggiavano grandi sorrisi ripetendo quanto amassero il nostro paese e in nostro cibo, in piu, rispondendo ad un annuncio nella biblioteca della mia citta, ho scambiato per alcuni mesi, un'ora a settimana di conversazione italiano-inglese con
un paio di signore che volevano imparare la nostra lingua e con le quali sono tuttora in ottimi rapporti.

Il cibo? Se non si fa i soliti italiani che cercano spaghetti a Londra e se siete aperti alla sperimentazione alimentare, sopravviverete alla grande! Il bello a Londra e poter spaziare tra le cucine di tutto il mondo, ci sono ristoranti
di tutte le nazionalita, gli spaghetti di mamma non vi mancheranno, credetemi, e comunque non fatevi tentare…sono immangiabili!!!

Cosa vedere a Londra?
Passeggiando lungo il Tamigi scorgerete il Parlamento e London Eye, la ruota panoramica. Molti musei sono gratuiti (National Gallery, N. Portrait Gallery, Tate Modern, Tate Britain, Victoria e Albert Museum) e davvero interessanti. Da non perdere il mercato di Camden Town, Portobello, Covent Garden, quello dei neri di Brixton (di notte puo essere pericoloso!) e le miriadi di mercatini sparsi in tutta la citta, i Castelli, le regge, le Fortezze, i Ponti, le Chiese…Poco interessante a mio parere, il "cambio della guardia"…una noia mortale come tutti gli eventi dello stesso genere, merita solo una toccata e fuga!
Se avete tempo andate a vedere qualche musical in teatro, se non ci capite un tubo poco importa, l'aria che si respira e comunque molto eccitante; "il re leone" e "fame" sono molto belli, comprate il biglietto nei botteghini in giro per la citta.

Se avete bisogno di mezzi di trasporto, meravigliosamente funzionali, comprate il biglietto gionaliero (funziona a zone) o l'abbonamento settimanale (necessita foto-tessera) che vi danno accesso a tutti i mezzi di trasporto della citta. Interessante e che il tour sui "bus Turistici" comprende
l'escursione in battello sul Tamigi. Mettete in valigia abbigliamento di vario tipo che tenga conto della pioggia, scarpe comode e dateci dentro, camminate, camminate, camminate, e solo cosi che godrete a pieno la citta!
Cos'altro dire se non...enjoy your trip!!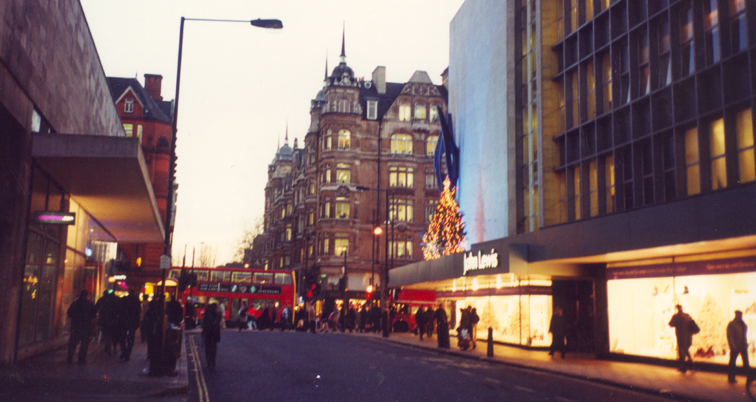 By Erica Harlow

After what felt like six weeks of constant rain and inclement weather the sun emerged and the weight of the world lifted from the shoulders of Londoners and tourists alike. I decided that this was the day for my Big Bus Tour of London.

The Big Bus Co. has three central London tours, red, blue and green. Because of the convenience of the hop on/hop off service, the tour is excellent for choosing places of interest along the route, which you might like to visit, during the course of the day. You can switch from one line to another but I chose to focus my day on the blue line. I started my tour at Marble Arch where the employee there was very helpful and informative. He gave me directions and asked if I wanted to visit Madame Tussaud's wax museum. If you purchase your ticket through Big Bus, you don't have to wait in the long queue outside the museum and get whisked in through the group entrance. I decided to save Tussaud's for a typical gloomy London day.

I climbed the steps to the top of a world famous red double-decker bus and sat right at the front. As the bus started, our tour guide introduced himself and then proceeded to comment on the different streets, sights and landmarks along the route to the first stop. After a brief pause at Baker Street, we continued south in the direction of Trafalgar Square. The guide pointed out Hamleys, the most famous toy store in the world and other points of interest along Regent Street and across Oxford Circus. The commentary was informative and often lit up the eyes of both the children and grown ups on the bus. At Trafalgar Square, I said goodbye to the guide and hopped off to visit The National Gallery. I took an hour or so wandering through the exhibits seeing Van Gough's Sunflowers and a wonderful temporary exhibition called Tell Me A Story.

As I stepped back out into the sunlight, I realised I was extremely hungry. Luckily for me the tour guide had pointed out a great place to eat across the street from the National Gallery called The Texas Embassy. If you're craving Tex-Mex food, this is the place to go to in London. The environment was lively, the service was fast and friendly and the food was great! I left an hour later, totally refreshed.

I easily found the Big Bus pick-up point and waited with a few other tourists for the next blue line bus to arrive. Everyone seemed happy to have the freedom to go about as they pleased and the bus came along in about 15 minutes.

Once back on, I asked my new tour guide if New Scotland Yard, headquarters of the Metropolitan Police, does tours but he informed me that they do not, I was disappointed as I was sure that they had a tale to tell. However as the bus passed by, he did point it out and gave us a bit of the history as well.

Continuing the tour past Harrods - I could get lost there for a week, Buckingham Palace, the Queen wasn't in residence as the Royal Standard wasn't flying and Notting Hill (I saw the film but didn't spot Hugh Grant or Julia Roberts). We ended back at Marble Arch opposite our starting point.

My tour guide pointed me in the direction of Oxford Street where I chose to conclude my day happily spending money in the wide range of shops.